Gasket materials for general industry applications
Frenzelit gaskets are found wherever reliable solutions are required: in power stations and chemical plants, in paper production, the food industry, heating engineering, the offshore industry, shipbuilding – and anywhere else you need us, of course! We have the right material for every application.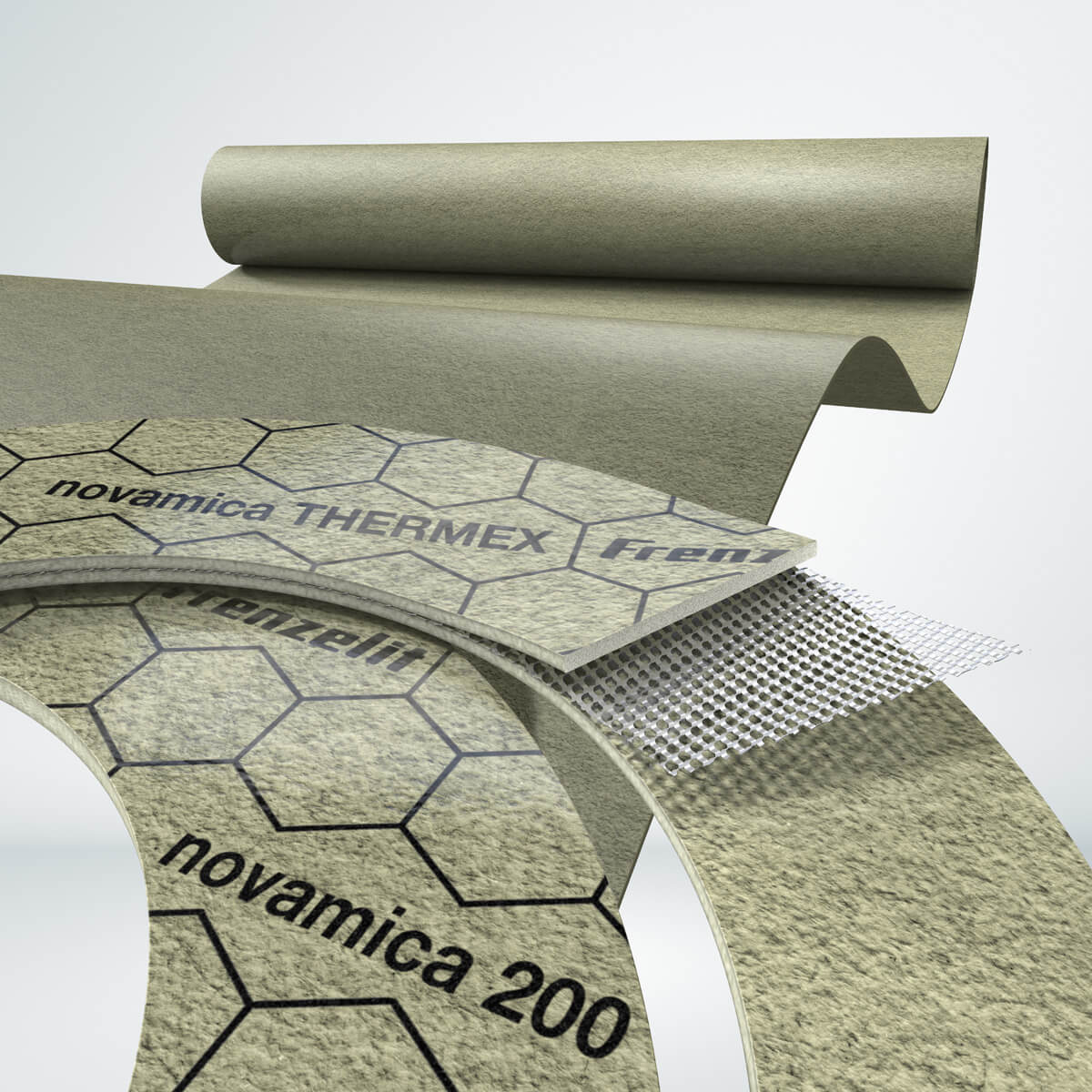 novamica® gaskets have the following properties:
Extreme temperature resistance up to 1000 °C
High chemical resistance – even against aggressive and corrosive media
Good thermal and electrical insulation properties
Incombustible (DNI = does not ignite – according to ASTM SAE J369 fire test)
Good adaptability to flange unevenness
Reliable long-term performance even at maximum temperatures
Extremely low binder content guarantees long-term stability
novamica® products are not only suitable as conventional high-temperature gaskets but also as insulation materials or temperature-resistant compensation elements.
However, novamica® materials are best suited for applications with a temperature level of 400°C or higher.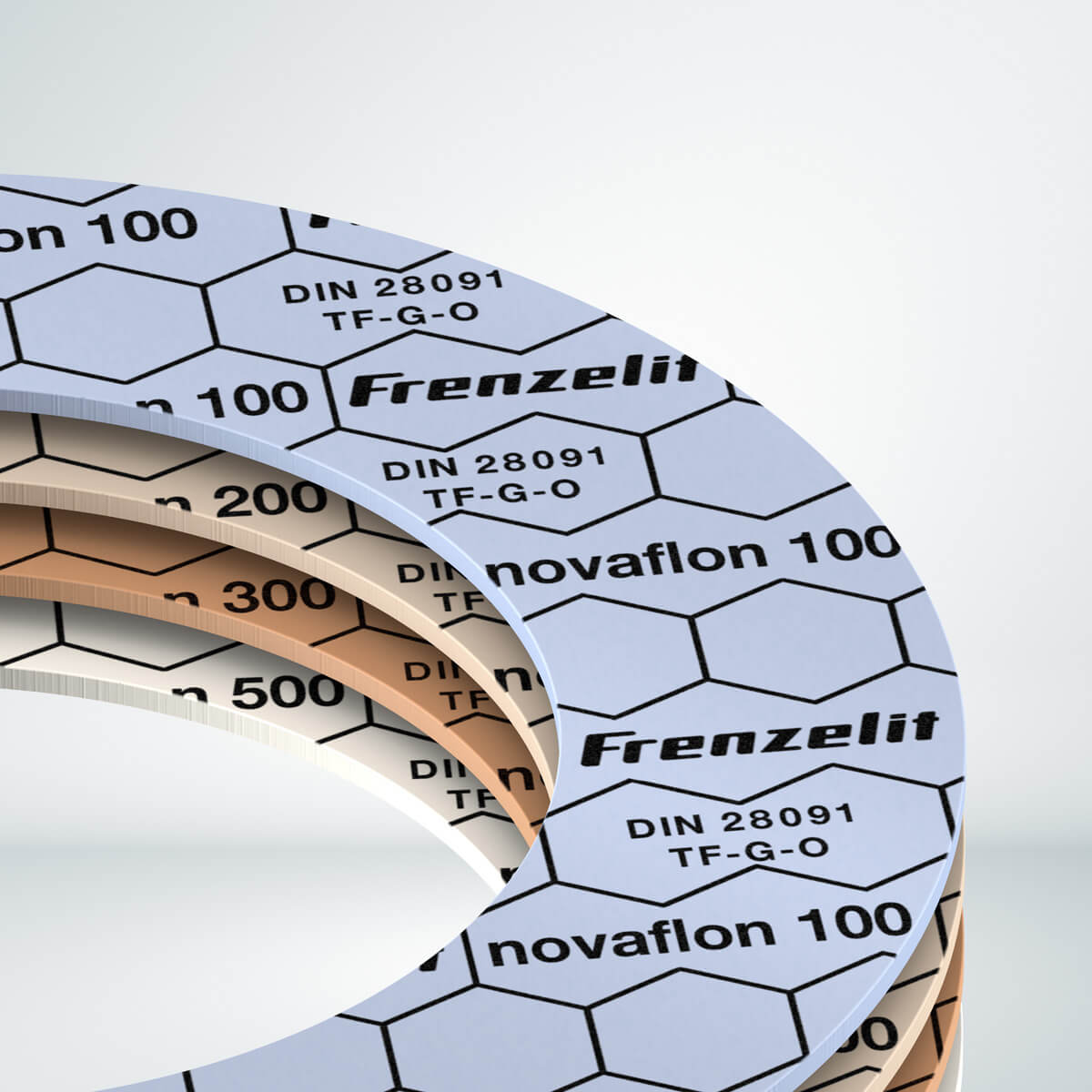 novaflon® can be used in a wide temperature range from -210 °C to +260 °C and has an unlimited shelf life when stored in compliance with the recommended storage conditions according to ISO 2230.
novaflon® gaskets offer a number of key advantages over pure (virgin) PTFE produced using conventional methods:
Stopped cold flow1 and greatly reduced hot creep2
Resistant to high pressure and temperature loads
High residual stress
Good mechanical strength (even under temperature stress)
Blow-out resistant according to VDI directive 2200
1 = Deformation under pressure exposure without heating
2 = Creep properties under pressure and temperature exposure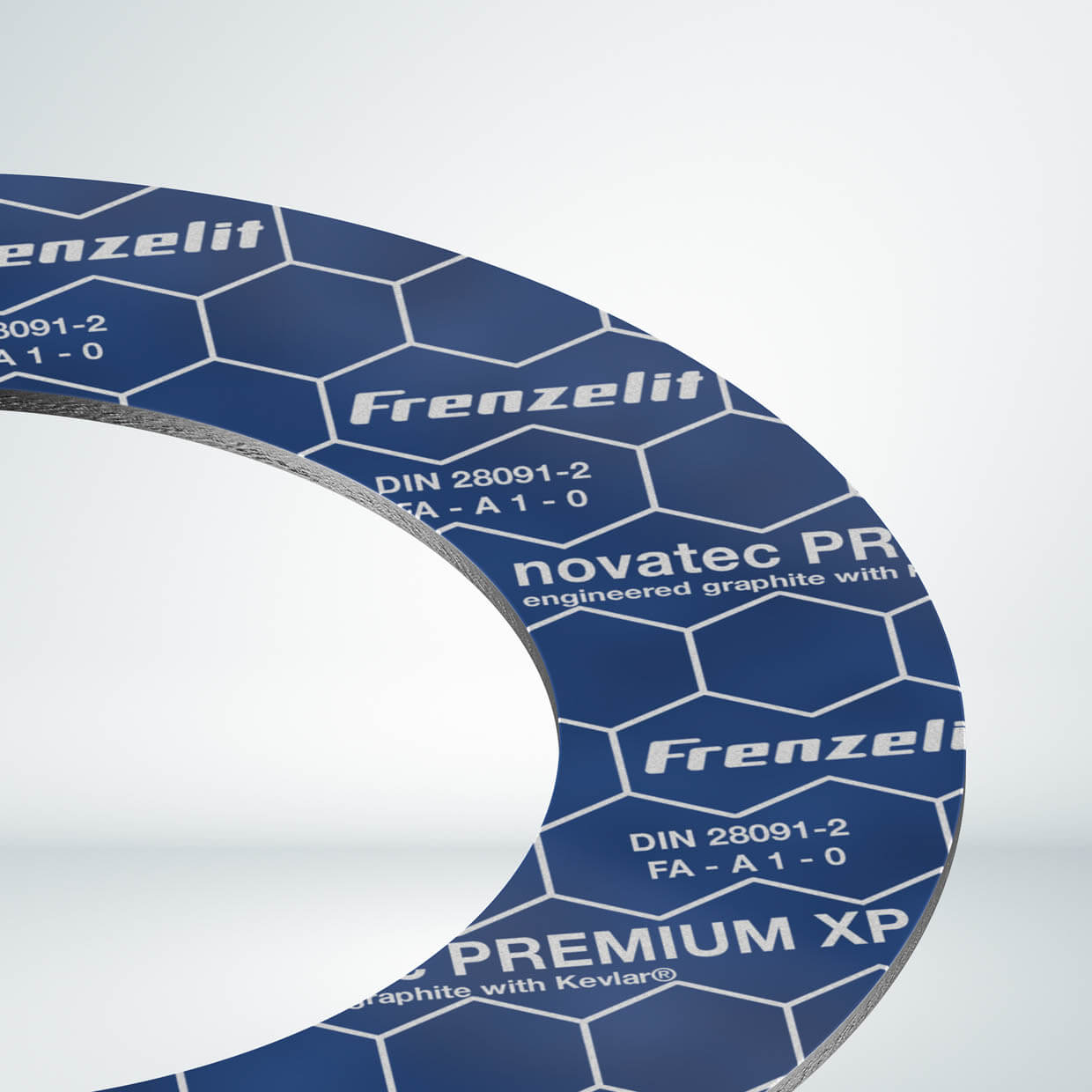 novatec® brings two worlds together: The world of conventional fiber gaskets and the world of graphite gaskets. Their very high graphite content makes novatec® gaskets superior to conventional fiber gaskets due to the following properties:
Higher temperature resistance

Better chemical resistance
novatec® is ideal for higher requirements that conventional fiber gaskets cannot meet or no longer reliably satisfy. Thanks to their material structure, novatec® products have sufficient inherent strength so that a metal insert is not necessary for reinforcement. This makes them suitable for use with a variety of media.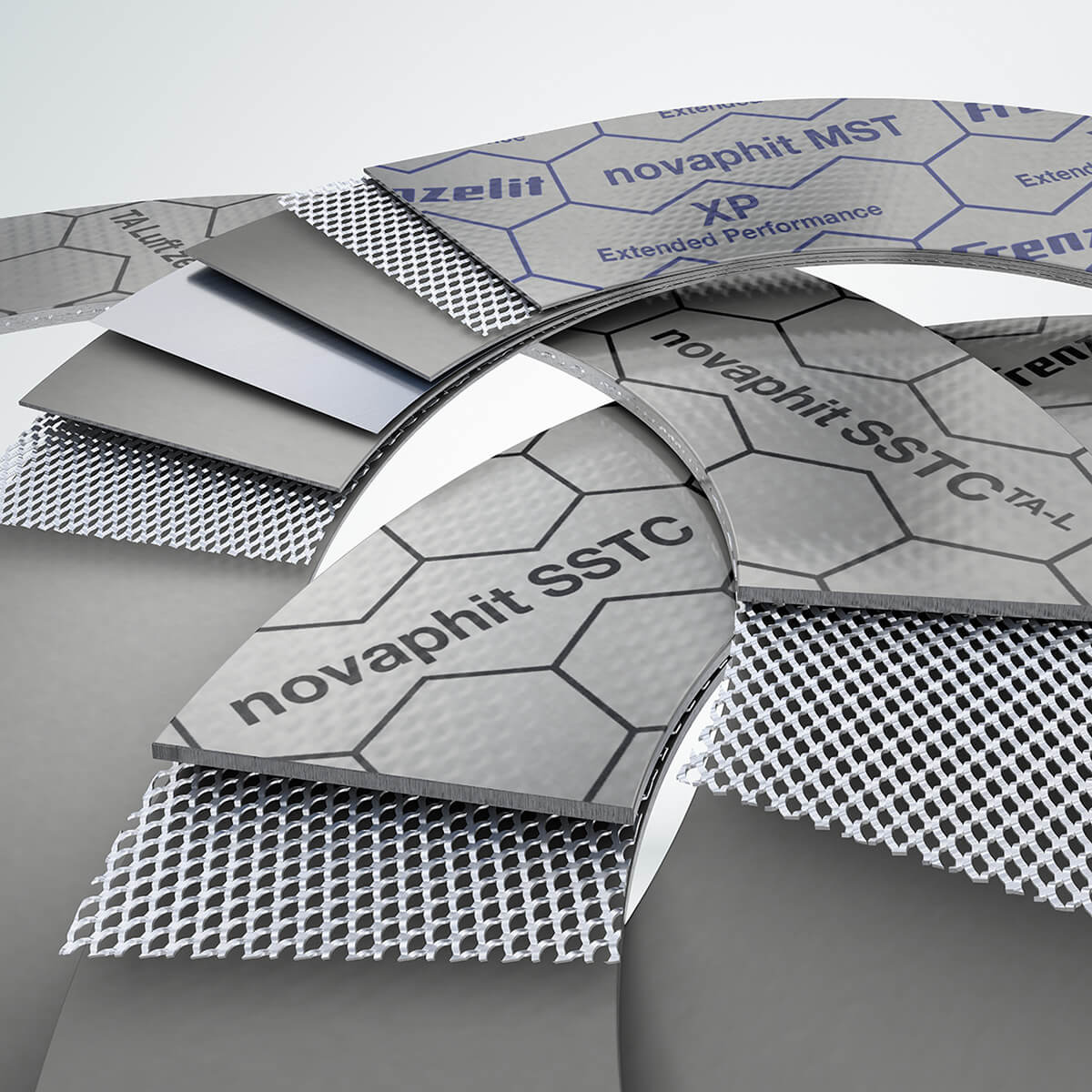 novaphit® gaskets have the following properties:
Temperature range from -200°C to 550°C
Universal chemical resistance
Excellent adaptability to flange unevenness
Insensitive to changing loads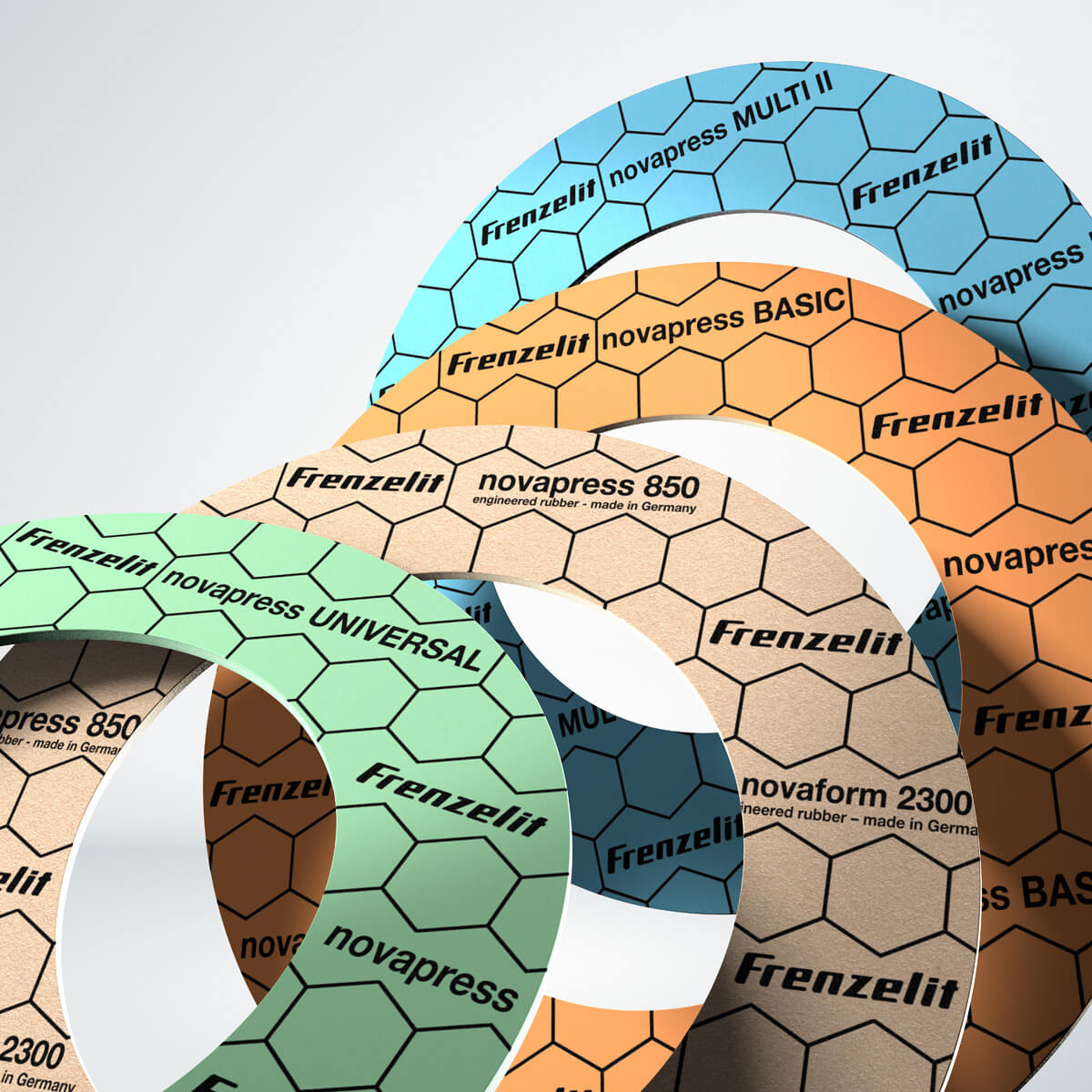 The novapress® product family represents the latest technology in fiber-based gasket sheets. The use of the latest process technology and a process control system for the entire manufacturing process guarantees consistent quality at the highest level – made in Germany.
novapress® is a group of elastomer-bonded gasket materials based on high-quality aramid fibers and special functional fillers. novapress® products are the standard in flat gasket applications and cover nearly all conventional applications; however, each product has special properties that make it ideal for use in specific applications.
Whether it's innovative materials or gasket solutions that have been used successfully for many years – the novapress® product line offers you the right gasket material for countless applications.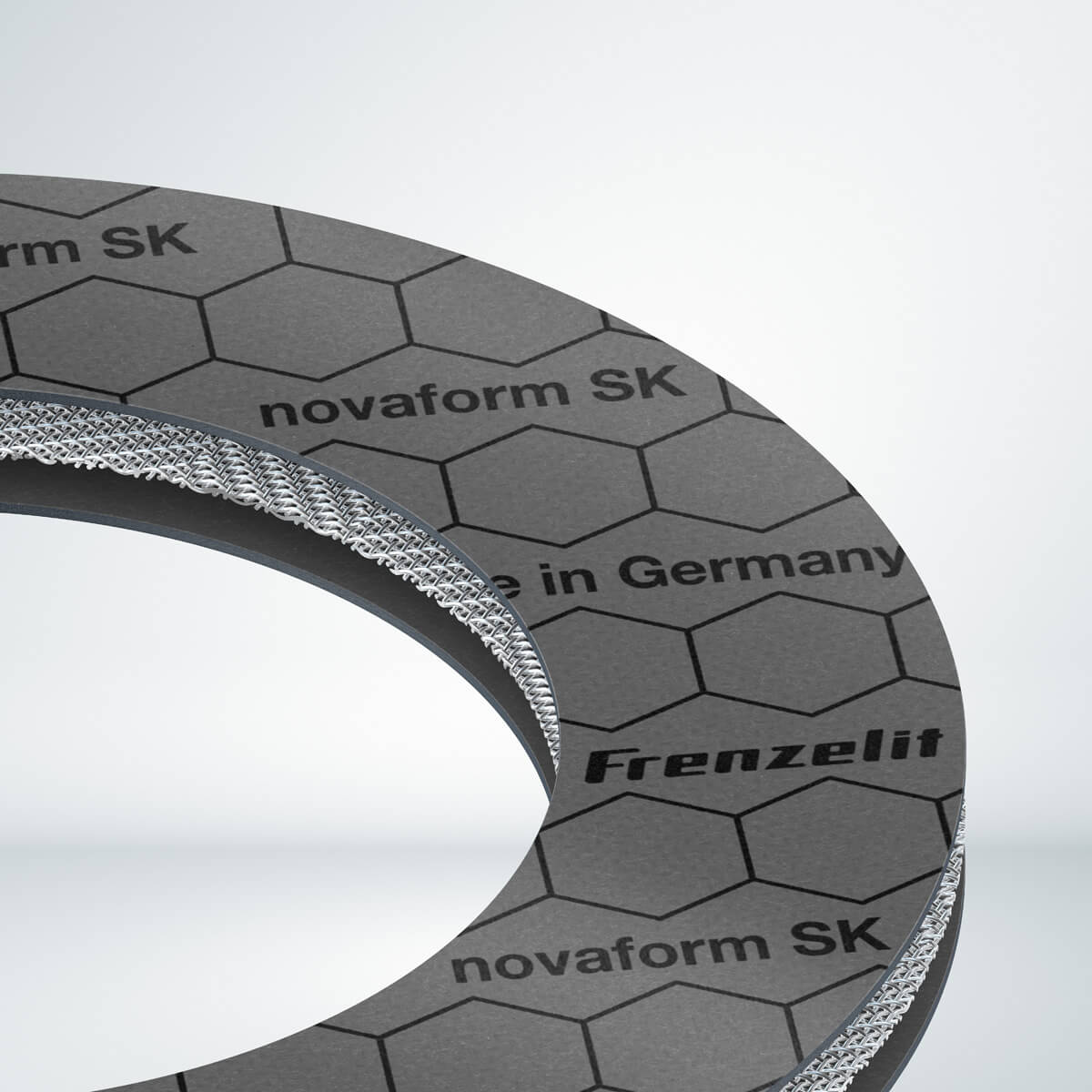 novaform® EXHAUST GASKETS are specifically designed for exhaust applications with increased thermal and mechanical loads on gaskets, for example in diesel engines, turbo chargers, compressors, exhaust systems, etc.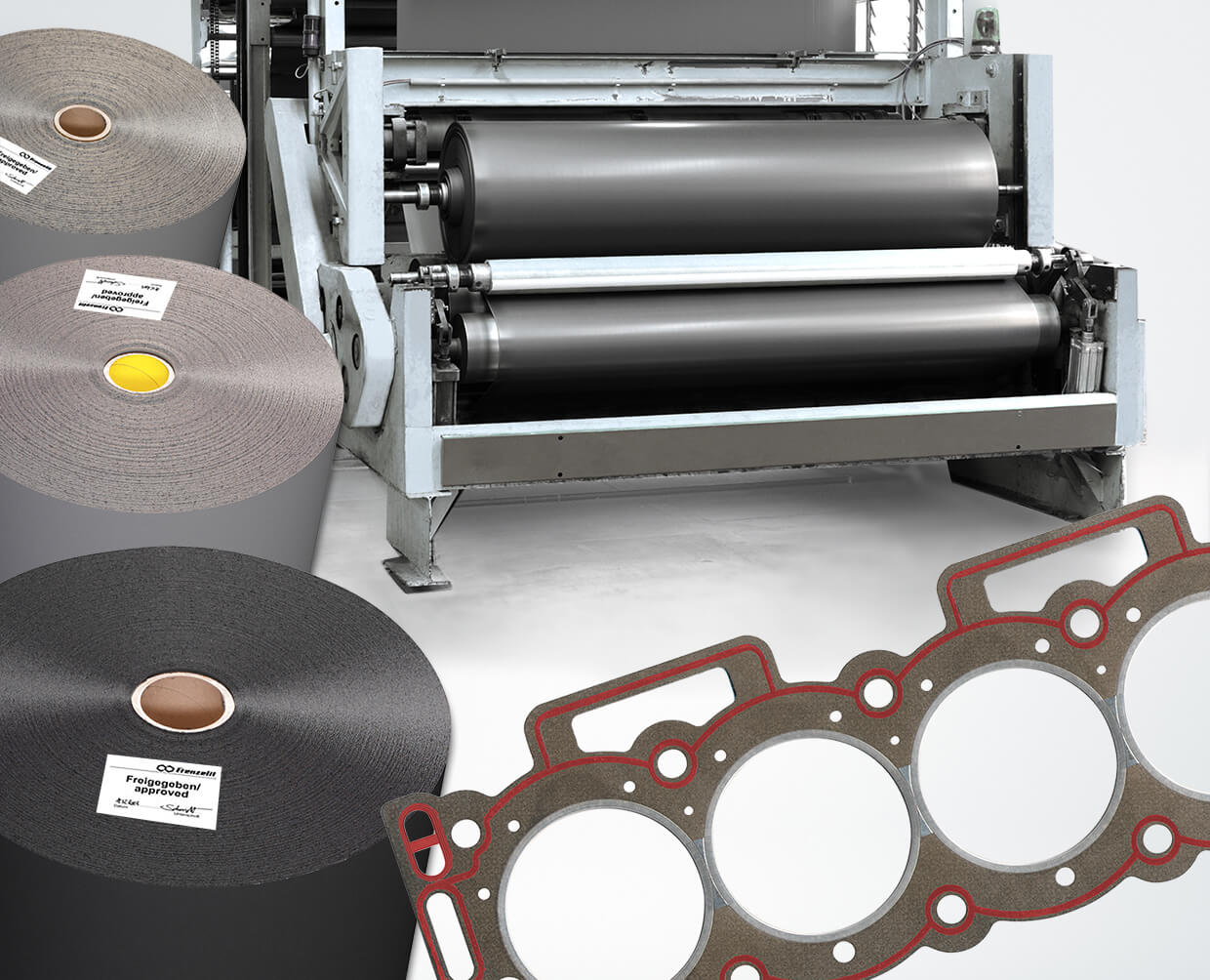 novaplan®
The novaplan® product family is based on fibers and mineral fillers bonded with NBR. The materials are sulfur and solvent free due to their manufacturing process. This ensures that all commercially available types of silicone can be applied to the material. Depending on the product quality, novaplan® is suitable for gasoline and/or diesel engines and is used in original equipment or aftermarket applications.
novatec®
novatec® LD14 is the material in the novatec® product family developed specifically for the automotive sector. novatec® LD14 is based on aramid fibers and graphite as well as fillers bonded with NBR. Due to its high graphite content, the material is very temperature resistant and adaptable and therefore ideally suited for exhaust systems.

Both product families can be used as a conventional material for soft cylinder head gaskets, but they are also suitable as pure secondary gaskets. The materials come as a roll and can be cut to customer-specific widths.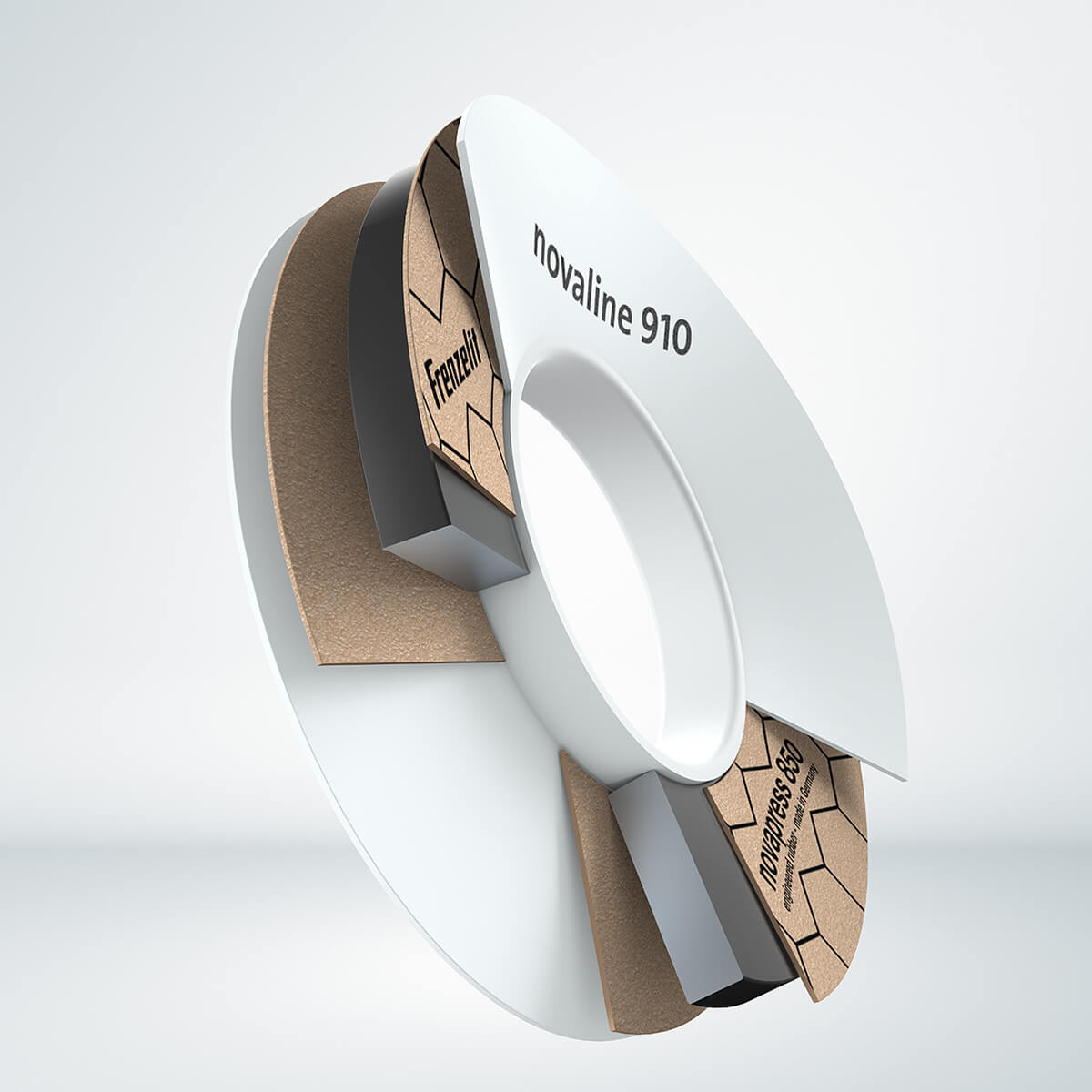 novaline® is a new product line comprising ready-to-install gaskets. They enable complex solutions for sealing problems that were previously considered unsolvable.
novaline® incorporates many years of expertise in gasket materials paired with knowledge about the daily demands on gaskets in various applications.
novaline® transcends borders through the intelligent combination of materials and sets new standards in gasket technology.
Overview of textile-based gasket products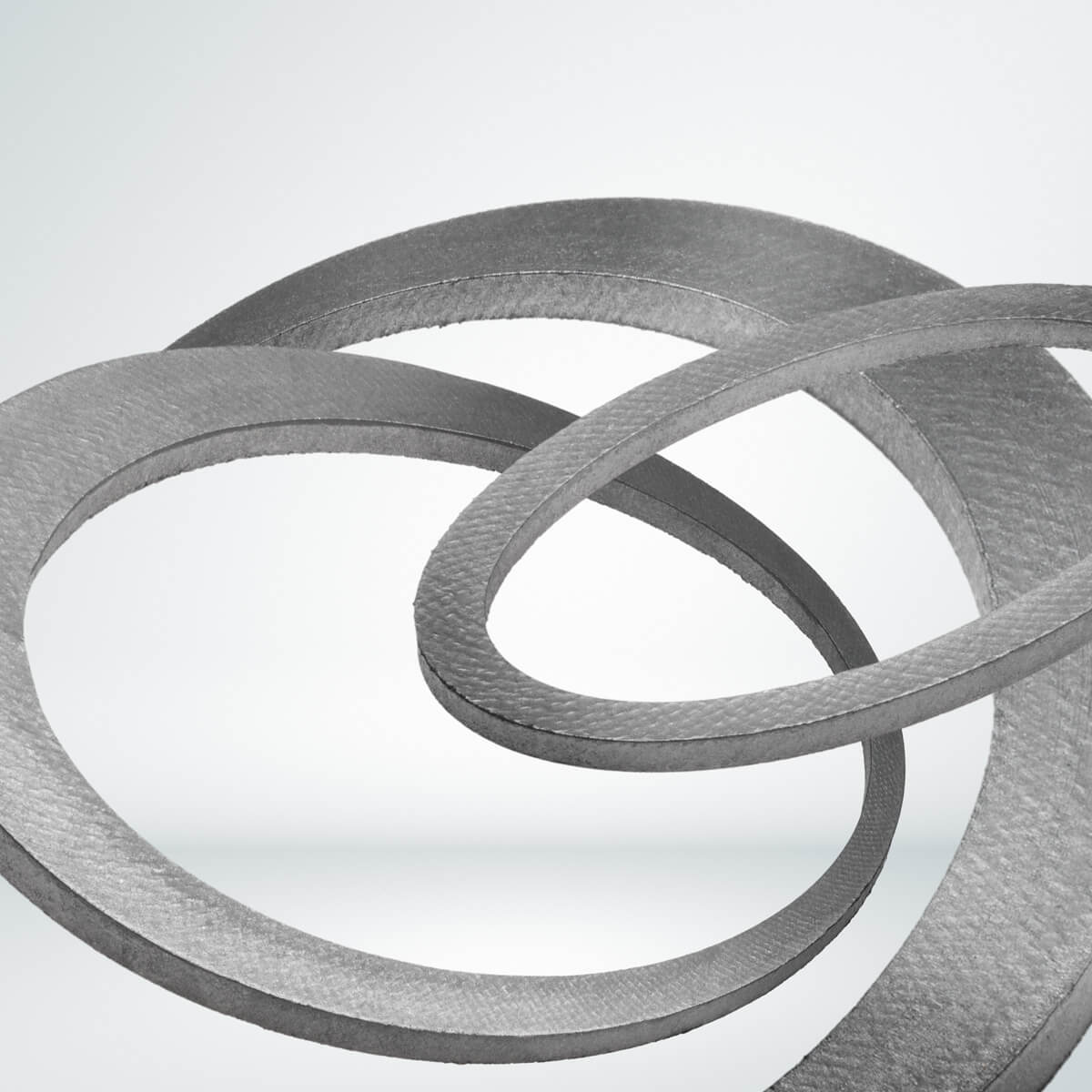 These classic boiler rings for handhole, headhole and manhole closures in boilers and vessels made from a high-performance woven fabric with an elastomer coating come in an oval shape and have unique features:
Test class D / C for unrestricted use
Specially designed gasket surface for effective safety characteristics
Perfectly adapts to closures regardless of the existing closure system
Guarantees tightness during boiler operation; limited cold water tightness
Simple installation and removal
They are retightened after installation when restarting the boiler and achieve safe working conditions when the fitting process is complete
Frenzelit handhole, headhole and manhole seals for steam boilers and vessels are individually packed and come with detailed installation instructions.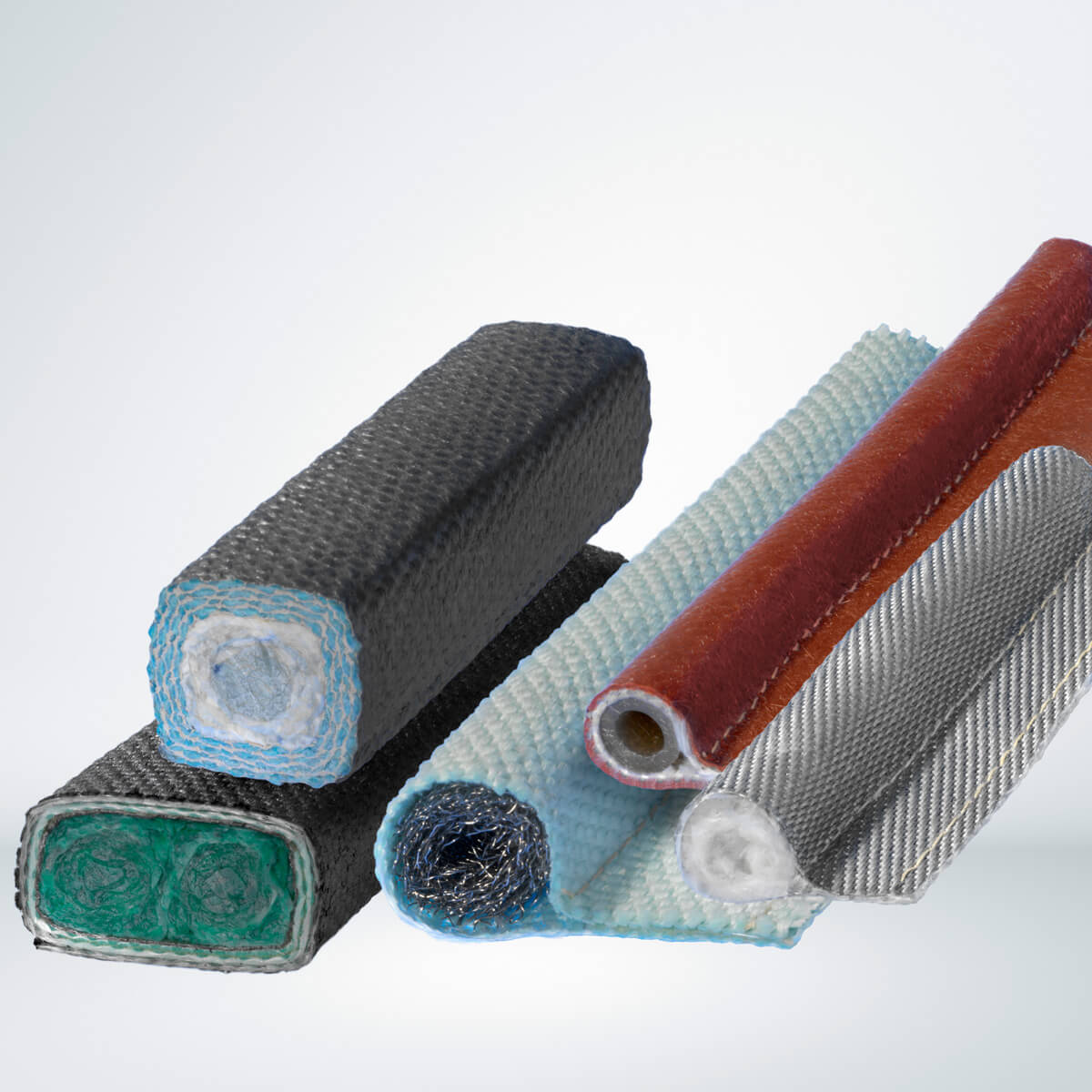 Tadpole tapes
Tadpole tapes consist of woven fabric on the outside combined with a core enclosed in the head. While the head carries out the actual sealing and/or insulation function, the purpose of the tail is to attach the gasket to the component. The material is selected based on the application temperature and use case.  
Wound packings/Layered tapes
Wound packings are available as 2-diagonally braided or as braided sleevings. Ready-made (wound) packings and tapes made by Frenzelit from a specified base material are (initially) layered until the specified dimension is achieved. We can also provide them with a core layer insert.
Insert: Depending on the application, a core can be incorporated in the fabric seal as an insert. This increases flexibility and improves resilience. A variety of materials can be used here; braided packings or twisted cords are used in most cases.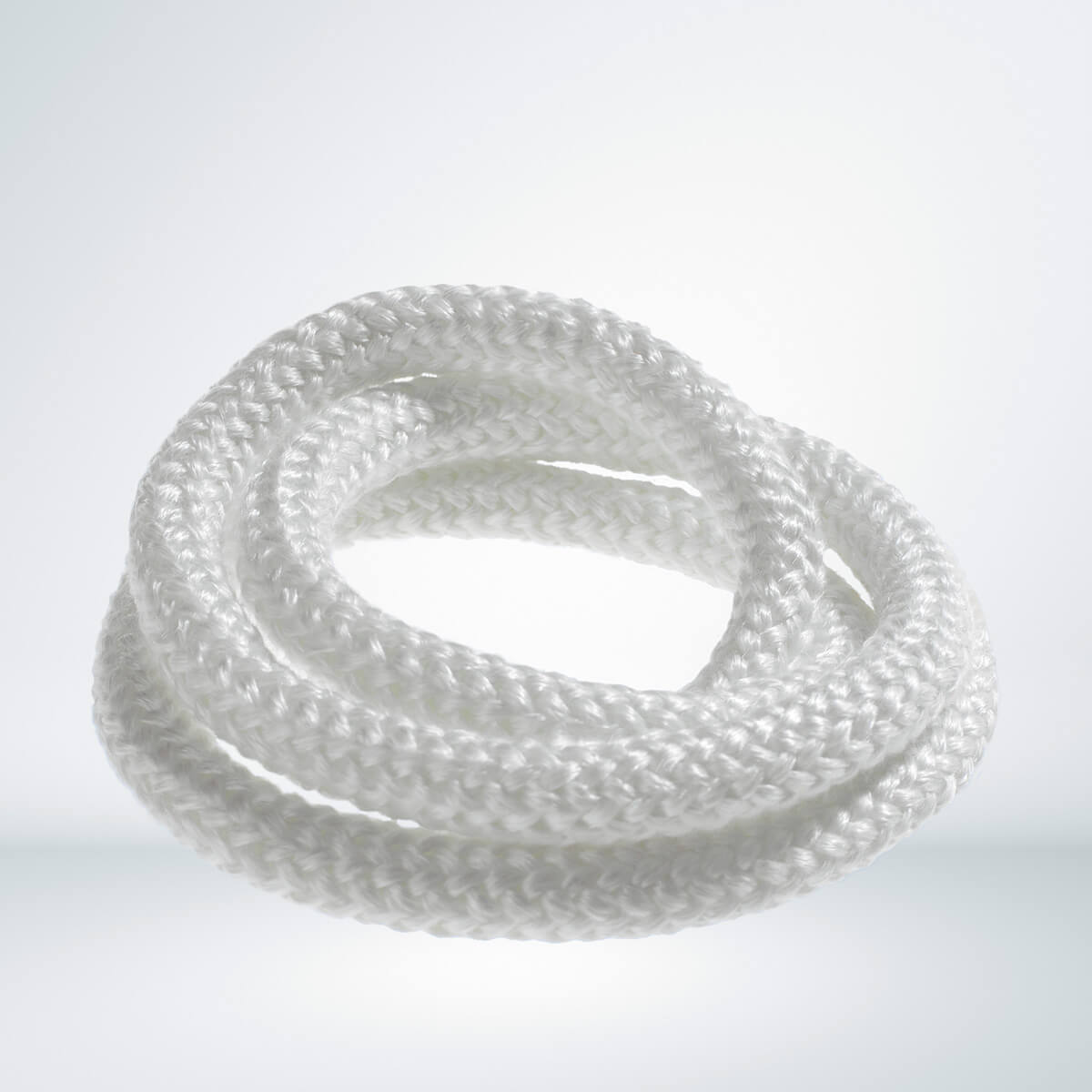 The special method used to produce knitted ropes guarantees a dimensionally stable, highly flexible product. They are ideal for even the most challenging installation conditions. Dimensional tolerances in cast parts are compensated for and there is optimum adaptation to the smallest corner radii. The very good elastic recovery ensures long-lasting functionality of our knitted ropes. 
Advantages:
High flexibility, which also makes it suited for difficult installation conditions (e.g. uneveness/constriction in a groove, tight radii, etc.)
Extremely dimensionally stable, i.e. no bulges if the material is bent
Very good elastic recovery, i.e. the material springs back to its original diameter
Made from skin-friendly textured filament yarns
The knitted ropes are primarily used as a seal in furnace, boiler and chimney doors as well as in the steel and aluminum industries.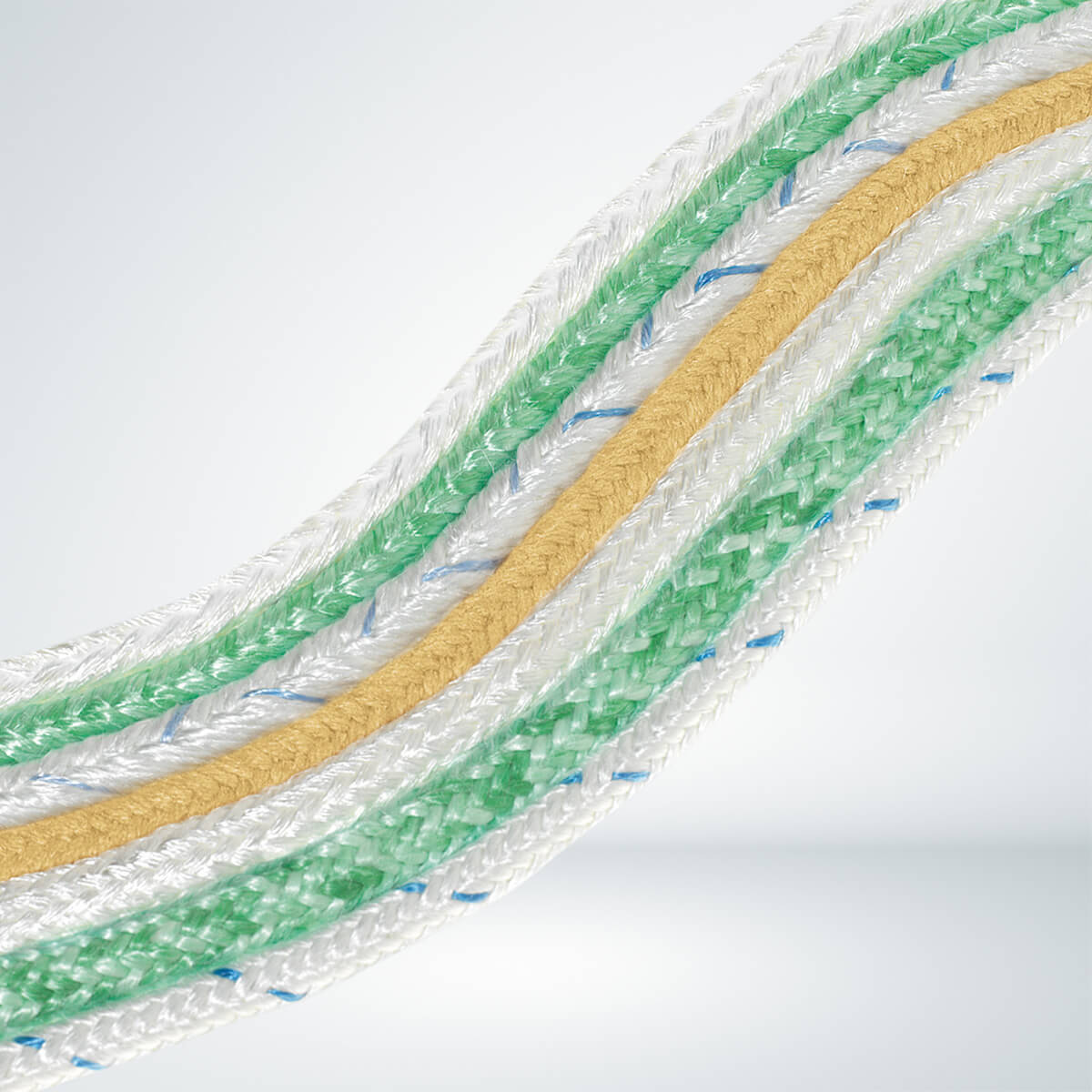 Frenzelit packings can be 2 or 3-directionally square, rectangular or round braided and provided with various fillings. Multiple layers can be braided over each other to achieve the desired dimensions. In addition, they can be optimized according to requirements (e.g. graphitized, equipped with vermiculite, etc.) and are also available as cut pieces. Designed for static applications, they can also be used as pipe insulation.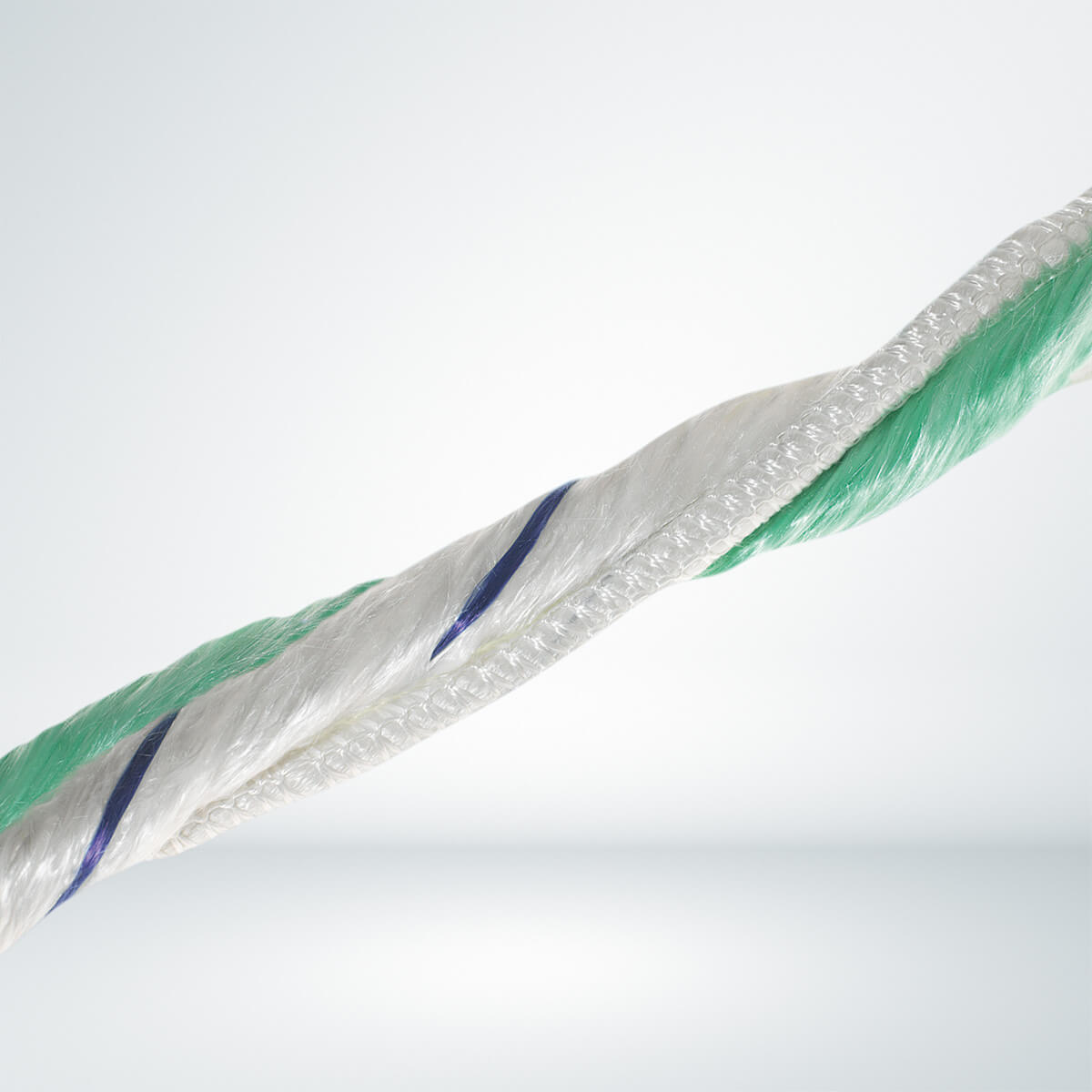 Multiple yarns are twisted together – depending on the desired cord dimension and grade – and provided with a knitted sheath on request. Thanks to the different temperature limits of Frenzelit's various grades and the optimum raw material processing, the cords can be perfectly coordinated to the respective customer application. The cords have the following advantages:
Dimensionally stable
Elastic
Tear-resistant
Customizable
High quality for long service life