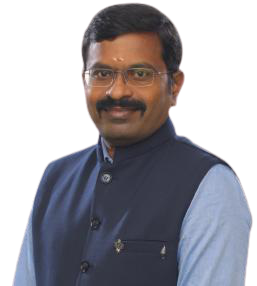 Mr.Ramesh Babu.J is a prominent leader in the Rainwater Harvesting and Water Purification/Alkalinization Industry with over 20 years of experience in Dyeing Machines Service, Water Solutions and Rainwater Harvesting. Mr.Ramesh Babu started RPV Enterprises in 2008, with one goal – to provide the world with quality solutions for everyday problems.
RPV Enterprises was founded as a Total Solutions Provider for all Energy and Water needs, including Solar Power, Alkaline Solutions and Industrial Spare Parts Manufacturing. One of his hobbies is Rainwater Harvesting, and so began RPV Wisy. With his expertise he was able to transform the country's way of saving Rainwater from conventional to modern methods. RPV Wisy now has over 13000 joyous customers.
Prior to the foundation of RPV Enterprises, Mr. Ramesh Babu was working as Chief Technology Officer for a Dyeing Machine Manufacturing Company based in Greece and the United Kingdom. His successful career includes diverse experience across various industries, having held several leadership roles.
His vision for starting RPV Enterprises was to have a better tomorrow, by working for it today, thus came "Today For Tomorrow"
RPV Enterprises, was founded by Ramesh Babu.J in the year 2008 at Erode, Tamil Nadu, we "RPV Enterprises" are a Sole Proprietorship (Individual) based firm, involved as the manufacturer and trader of Rainwater Harvesting Filter, Water Purification and Softening Plants, Alkaline Water Filters and All Industries spare parts. Selection and the manufacturing process include a highly experienced team, and we ensure highly competitive prices and timely delivery, we have many satisfied customers from all over the world. We export our Industrial Spare Parts to over 15 countries.
RPV Enterprises was founded with the sole intention to provide world-class products and services to the people of India. We have been successful in setting a trend in the market for the best quality at competitive prices.
"Today for Tomorrow" has been the Vision of RPV Enterprises since the day it was started. We have been striving since the Day One to enlighten the concept of being the change for the future and leading the world towards a better future.
One cannot reverse the ill-effects already done in a flash; it takes time. That's exactly why we believe in working Today to make Tomorrow better. All the products and services under RPV Enterprises have a supreme role in refining the future of the world.